The Red Carpet Treatment

At Pack N' Go Movers, we understand that moving can be a stressful experience. That is why we provide the Red Carpet Treatment from start to finish to make your move as easy and stress-free as possible. Our professional movers are experienced and highly trained in the latest techniques for packing and loading large items to ensure that all of your belongings arrive at their destination safe and sound.
Free Moving Quote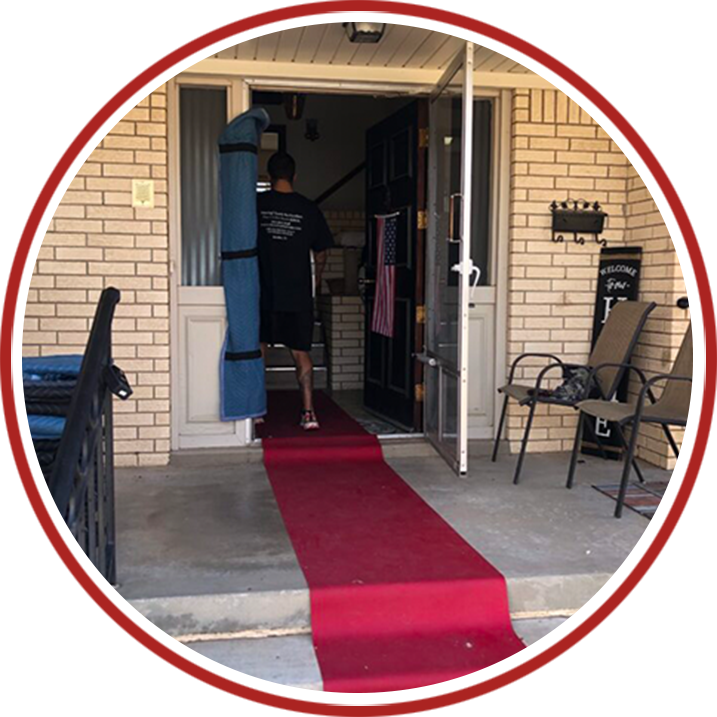 "We're moving family memories and valuables that make a house a home"
There's no job too big or small. We get it done every time and ensure it's a safe and meaningful experience for you and your people closest to you. With experience in healthcare, we pride ourselves on excellent service and safety being a paramount piece of our work. We're moving more than just boxes and furniture…
Contact Us
Moving Services We Provide
Residential Moving

Household Moving

Apartment Moving

Condo Moving

Assembly Service
Local Moves

Long Distance Moves

Office Moving

Staging Moves

Labor-Only Moving
Our

7 Step

Moving Process

Congratulations! You have found the best moving company in Austin! Now what's next? After the discovery process, you can contact our office by phone, text, email or virtually by submitting an online instant quote request
Free Moving Quote
Step 2: Quote Follow Up & Booking Process
Shortly after our quote has been sent out to you, a Pack N' Go Movers representative will call you to answer any questions or concerns you may have about your quote. Once you are satisfied, our team will take you through the booking process to get your move scheduled and explain our courtesy call check in process to you.
On moving day, you can expect to receive a call from our team of movers once they have left the office and are en-route to your home! They will provide you with at least a 30 minute "heads up" call, giving you plenty of notice to prepare for our arrival.
Step 4: Preparation & Protection Process
This is perhaps the most critical part of the moving process. We begin by prepping your entryways with door jams to protect door trim and doors from any potential damage. We also lay out floor runners (the red carpet) throughout the main entryways of the home to prevent any scratching or damaging of your floors.
Step 5: Loading Process and Second Walk-Through
Once all of the furniture and your beloved household good items are wrapped, the crew leader of your assigned moving team will begin the loading process. We will strategically and safely pack your belongings onto our commercial box truck. Once your items have been loaded, our moving team will do a second walk-through with you.
Step 6: Unloading Process and Final Walk-Through
Once we arrive to the destination address, our team will once again prep your home with door jam protection and floor protection, just like they did at the first house! They will do another walk-through with you to identify which rooms are which, to ensure we are unloading items in the correct room. After the items are unloaded from our truck, we will begin reassembling any furniture, appliances, TV's or beds. After everything has been offloaded and all of your furniture has been reassembled, we will do a final walk-through with you.
Step 7: Completion of Move!
Once the final walk-through has been completed, we stop the clock and accept payment. Our office team will follow up with you shortly after your move to discuss your moving experience and obtain any feedback. So Sit down, relax and let the best moving company in Austin take care of your next move for you. Make your next move, your safest move with our stress-free moving services!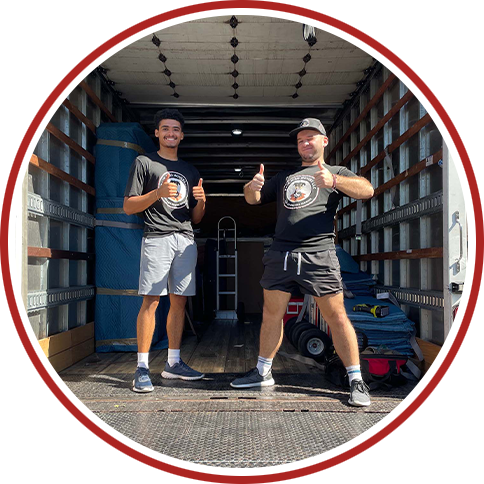 Our Team of Movers

We take pride in the level of customer service that we provide and make sure that each customer is treated with respect and care throughout the entire moving process. We value your time, so our movers are efficient and do their best to get your items moved quickly yet carefully.
Free Moving Quote
Taking care of your Home:
It's what we do
My movers were absolute lifesavers! They made my moving day a breeze from start to finish. The team was friendly, efficient, and took great care of my belongings. I couldn't have asked for a better experience. Five stars all the way! Highly recommend!
Quinn did an excellent job of communicating and keeping me updated on the moving process, arrival time, billing, etc. Patrick the owner of the company, texted me back quickly (over the weekend) with answers to all my questions which was very reassuring. Jose and Ty (the movers/drivers) were very professional, arrived on time at pick up location, carefully wrapped and loaded furniture for transport, delivered items to first drop off location, carefully unwrapped and installed furniture in desired locations, then transported remaining furniture to the storage facility, took photos of the items going into the storage container, and delivered the keys back to the designated drop off location, keeping me informed of each step in this process of moving my client to a senior living facility. They definitely know what they are doing and I highly recommend their services. Great job PackNGo !
joshua peterson
2023-07-07
had incredible service both from the movers and quinn, i highly recommend
Peter Van Wagoner
2023-07-07
I talked with someone on the phone earlier, I believe his name was Quinn, and he was the best most enthusiastic person I've ever talked to! He gave me the info I needed super fast and efficiently. 10/10 would recommend talking with Quinn even if you don't end up working with his company!
Very professional and easy to work with. Paddy is a rock start at moving. Highly recommend.
Aisling Griffin
2023-07-07
Thank you so much for making a very stressful move so easy!! Appreciate y'all!
Patrick is very funny, smart, and cute. Also good wrestling
I have used Pack n Go Movers twice and each time they were prompt, responsive, and professional. They would always call me back after I called them, they did check in calls the day before the move was scheduled, and they even remembered me as a returning customer; it always feels good to be remembered. The customer service is top notch and I couldn't have asked for better service! I will definitely be using them again and referring my residents, friends, and family.
They called and texted with updates. Communication gets 5 stars! They arrived on time. They were efficient and quick. I am 100% pleased and would recommend them. They even made two stops for me to pick up a piece of furniture from a friend. Thank you so much for great service! And I love the logo!
Karissa Anderson
2023-06-20
We had a great experience moving with Pack n Go! Patrick and his team were awesome to work with. I appreciated all the communication and every professional yet personable interaction. We had a bigger move out of the Round Rock area, and the crew worked hard and long, but did it all with such great attitudes and work ethic! They were careful and took their time to load and move things safely for us. They were respectful, friendly, and worked so well together as team. I have already recommended them to a friend who will be moving soon! Thanks for all your help, Pack N Go!